Hospital at Home learning event, 18th February 2020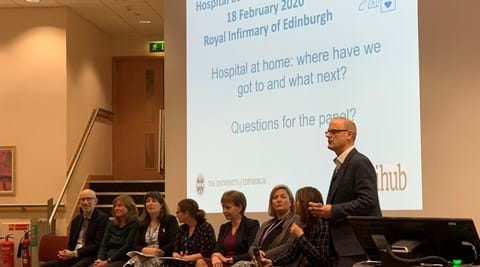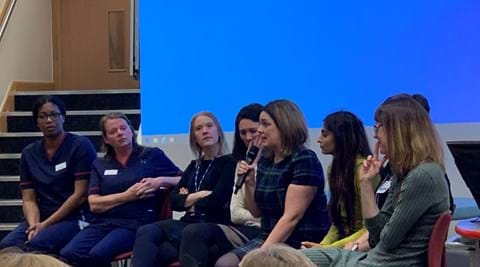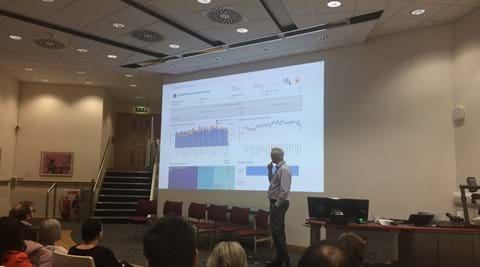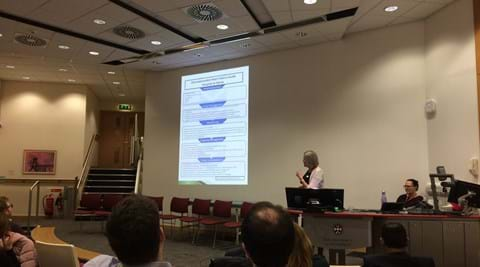 The first Scottish Hospital at Home learning event took place on 18th February at the Royal Infirmary in Edinburgh. 200 delegates had the opportunity to learn from services from across Scotland, reflect on successes and challenges, and to discuss future steps for Hospital at Home.
Why Hospital at Home?
Professor Jason Leitch, National Clinical Director, Healthcare Quality and Safety, Scottish Government opened the day with Barbara's story, contrasting two different experiences of a fall at home. The first time she was ready for discharge after eight days, but stayed in hospital for six weeks because her care package had been removed while she was in hospital. The second time she remained at home and was supported through hospital at home.
He highlighted the need for culture change, effective management of risk, and the role of data in supporting service change. Jason also acknowledged that one size will not fit all. The aim is to spread the core principles of Hospital at Home: finding the elements of Barbara's care that will work in different contexts.
In a video introduction, Jeane Freeman, Cabinet Secretary for Health and Sport, called for a 'home first' ethos in health and care services. She also stressed how Hospital at Home can help to deliver person-centred care.
Guiding principles
Professor Graham Ellis, National Clinical Lead for Older People, Scottish Government introduced the Hospital at Home guiding principles for service development, which Healthcare Improvement Scotland published in January 2020. The report reviews evidence on Hospital at Home, shares learning from services from across Scotland and aims to provide key information to support the development of Hospital at Home services. He highlighted how, in some cases, hospital may not be the most appropriate place for older people with frailty to receive care and that Hospital Home is aligned with policy imperatives to deliver person-centred care at home.
Graham gave an overview of the evidence base, the conditions that can be managed through Hospital at Home and emphasised the importance of a flexible workforce that is appropriately supported and developed. He also discussed the following risks and how to mitigate against them: clinical, performance, costs, and staffing.
Data for learning and the role of technology
Matthew Armstrong, Information Consultant from Information Services Division introduced the National Services Scotland Discovery platform, which can be used for benchmarking. They have produced a developmental dashboard for Hospital at Home, which is based on content from previous summary reports. The dashboard allows data on Hospital at Home spells, bed days and length of stay to be compared across different NHS boards. It is also possible to view trends, specialties and conditions, and filter on these.
New technologies have the potential to support the delivery of Hospital at Home services. Joanne Boyle, Head of Business Engagement outlined the work of the Digital Health and Care Institute. She observed that we often tend to jump to the solution because we think we understand the problem. However, we need to understand the problem fully before considering the digital products that could help to solve it.
Learning from local services
Practitioners from local teams in Grampian, Tayside, Fife, Lanarkshire and Lothian shared their experiences of setting up and delivering Hospital at Home services. There were some areas of commonality, such as building on existing services, referral routes and using a multidisciplinary team approach. Common challenges included:
Grampian were unable to recruit a geriatrician, while Lothian has struggled with sickness absence.
Accessing care at home.
Explaining to people that hospital may not be the best place for them to be.
Medication blister packs, which are difficult to deal with when you're making frequent changes to people's medication. Pharmacy input can help with this.
Successes have included:
positive feedback from patients
team involvement
workforce development, blending professional roles
supporting a realistic medicine approach, and
holistic review.
Clinical case presentations
Practitioners working in Hospital at Home services highlighted some of the challenges of delivering acute care in the community, including the potential for workers to feel isolated at times, and having the confidence to manage certain conditions safely. Case presentations on heart failure from Dr Penny Cartwright, NHS Lothian and Dr Angie Wilkinson, NHS Fife and on pneumonia from Dr Jenny Harrison, NHS Lothian, generated discussion on treatment options and highlighted innovations in administering medication. The presenters discussed local guidelines that had been developed for heart failure, antibiotics and administering furosemide.
Where next for Hospital at Home?
A panel session at the end of the day considered the value in sharing local guidelines and how to share the learning from Hospital at Home services more widely across Scotland. There were also discussions on how to make changes to the way in which services are planned and funded, and the need for a more holistic approach to service planning across the health and social care system.
There is a clear interest in future Hospital at Home events to allow people to continue to connect and share their learning. Further information on hospital at home can be found on the Hospital at Home Links page.