Lesson1 - Creativity
'It's more fun to colour outside the lines '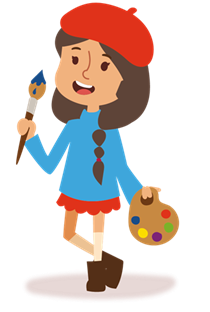 Quality Improvement Skills: innovation, imagination, creativity
Children are naturally creative and self-expressive. They run, play, colour, paint, and dress up with abandon. They are driven by curiosity, willing to take risks and not afraid to be themselves. As adults we lose this joy of creativity or learn habits which stop it from emerging. A ground breaking study by Land and Jarman (1992) measured creativity of 5 year olds at 98%, in adults it was only 2%.
As adults we often view creativity and practicality as inversely related. Practical ideas are valued because they're familiar and proven, whilst innovative ideas are seen as risky and uncertain. For successful improvement in the quality of healthcare, QI leaders need to create a compelling vision, become champions for creativity, challenge the status quo, and explore unconventional ways of solving the big improvement problems.
Innovation is about harnessing the hearts and minds of people within organisations, yet we are often reluctant to use this giant, energetic, untapped resource. Innovation is dependent on staff at all levels having the confidence to try new ideas and be unafraid of mistakes, however we continually judge and reward them based on their ability to mitigate and avoid risk. QI leaders need to nurture innovation, encouraging staff to question what they do, how they do it, why and when. Holding on to our childhood creativity requires continual practice and a supportive environment where innovation and new ideas are valued.
Brainwriting: a tool for rapid brainstorming

Author: Arthur B Van Gundy Published: 10/01/11

Brainwriting is less well known than brainstorming but is an effective creative technique for capturing everyone's ideas, not just those with the loudest voices.

The Failure of Success

Author: George Land Published: 16/02/11

Land's 1968 research studied creativity in children then adults. In this talk he explains what the results were and how we as adults need to be more childlike to release our creativity.

Serious Creativity

Author: Edward de Bono Published: September 1988

The idea that creativity is just brainstorming and being free to suggest crazy ideas has done much to damage creativity. Learn about lateral thinking from the author of the Six Thinking Hats system.

The 5 Skills That Innovative Leaders Have in Common

Author: Katharine Graham-Leviss Published: 20/12/16

The most innovative leaders don't ignore risks, they manage them. They're curious and courageous. The author offers practical suggestions for more innovative leadership behaviour.

Read the Harvard Business Review article

What the Research Tells Us About Team Creativity and Innovation

Author: Roger Schwarz Published: 15/12/15

What factors affect team creativity and innovation? Leaders need to understand these to lead teams effectively.

Harvard Business Review article (members only)

The Creativity Continuum: Towards a Classification of Creative Problem Solving Techniques

Author: Elspeth McFadzean Published: October 2008

The author argues that companies would innovate more if groups and individuals could be encouraged to think more creatively. She puts forward creative problem solving as an approach to address this.

Originally published in 1991, this article explores individual and organisational knowledge and how capture these and translate them into innovative solutions.

The Knowledge-Creating Company

Author: Ikujiro Nonaka Published: August 2007

Originally published in 1991, this article explores individual and organisational knowledge and how capture these and translate them into innovative solutions.

Harvard Business Review, July-August 2007 issue-available online

Innovation and change – decision-making facilitation template

Author: Sharon Drew Morgen for Business Balls website Published: 2004-2008

Answer these questions to determine if you are ready to make a change, or ready to become an innovator. You will then have a better platform for change and innovation.

Template of questions to ask yourself and others

How to promote creativity in a team

Author: Forbes Coaches Council Published: December 2017

Creativity in a team can be hugely influenced by the members. This article will help understand factors which influence creativity and how this can be improved.

Online article from Forbes Coaches Council

Creativity and Improvement: A Vital Link

Author: L.P. Provost & R.M. Sprout

A fascinating article which explores various creative thinking tools to support improvement.

Article from the East London NHS Foundation Trust

The Creativity Toolbox

Author: Education Scotland 

Aimed at educators and quality improvement practitioners, the Creativity Toolbox provides a handout and a variety of short videos introducing creative ideas you can try with teams.