Lesson 3 - Negotiating
'If you want a hamster, start out asking for a horse'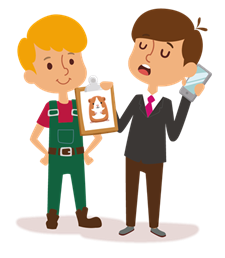 Quality Improvement Skills: negotiation, persuasion, influence
Children are skilled negotiators and most can twist their parents round their little finger. But there is more to it than a cute smile (although this helps a lot). They are intuitively manipulative negotiators who know how to play one parent against the other, use their emotions and push the right buttons. Children can also be extremely persistent negotiators. If they don't immediately obtain what they want, they ask again and again, and don't take no for an answer.
We can learn a lot from our children's negotiation techniques. Quality improvement initiatives require leaders who can facilitate change through negotiation (Varkey et al 2008). Persuasive communication is a vital skill when we need the acceptance, trust or support of others to implement change. In order to promote participation and buy-in, QI leaders need to create a connection, build rapport, and sell the vision—all of which are part of effective negotiation.
Emotional Intelligence and Negotiation

Author: A. Reyonlds | Published: 2003

The persuasion tool – model which describes the approach to be taken based on the level of intuition and influence. Simple tool which could be helpful in focusing thinking.

An innovative method to assess negotiation skills for quality improvement

Author: Varkey et al | Published: 2008

Potential case study/reflection/clinical skills simulation – details how the researchers used a test of change scenario to assess learners' negotiation skills.

Read the case study (PDF)

Win-win negotiation worksheet

Author: Mindtools | Published: 2006-2015

Template to focus learners thinking and prepare for persuasive conversations.

View the worksheet (PDF)

Understanding Transactions and Creating Win-Win Situations

Author: SkillsYouNeed

An important skill in negotiating is to be able to create win-win situations, where both parties gain from the transaction. An understanding of Transactional Analysis can help. SkillsYouNeed is a Welsh-based skills website. Guides are available to download.

Persuasion and Influencing Skills

Author: Skills You Need

This provides tips on ways to influence including the barriers you may expect and how to become a successful influencer.