Lesson 4 - Resilience
'Just keep banging until someone opens the door'
4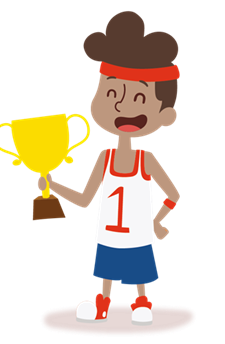 Quality Improvement Skills: perseverance, persistence, resilience
If at first they don't succeed, children will keep trying until they get the desired result. From learning to tie their shoes to figuring out a math's equation, children will doggedly keep trying until they get it done. They don't dwell on the past or obsess about what did happen, they move on and up from any setback.
The road to quality improvement can be long and winding. Setbacks are a normal, if difficult, part of the process. Successful QI Leaders understand that translating their vision into reality requires perseverance and resilience. Setbacks should be viewed as opportunities to learn, adapt and progress for the future. QI Leaders have a key role in helping their teams to work through improvement setbacks, and to view their implementation issues in a different or more constructive way. Learning from and building on previous setbacks is particularly important when attempting to spread a successful intervention to a different setting. The lessons learned from these setbacks very frequently inform future success.
8 steps to resiliency

Author: Centre for Creative Leadership | Published: April 2016

Infographic describing the core components to increase resiliency.

The habits of an improver

Author: Lucas, B and Nacer, H | Published: October 2015

Content supports resilience and provides considerations for learners

How Resilience Works

Author: Diane Coutu | Published: May 2002

'Resilience is… the skill and the capacity to be robust under conditions of enormous stress and change.' The author explores resilience in catastrophic events (e.g. 9/11), offering many examples of how organisations have developed resilience.

The Science of Resilience

Author: Sian Williams | Published: June 2016

A half-hour programme in which Sian Williams explores the science of resilience, building on her personal experience of breast cancer.

Resilience: How to Build a Personal Strategy for Survival

Author: Gill Corkindale | Published: January 2009

Resilience is a quality that leaders need more than ever. It's a skill that can be developed, not just the result of experience. Learn how to build a personal resilience strategy.

Learning from failure in health care: frequent opportunities, pervasive barriers

Author: A C Edmondson | Published: 2004

Shared or organisational learning from failure is difficult. The author recommends strategies for overcoming barriers to learning from failure, emphasising the critical role of leadership.

Failing by Design

Author: Rita McGrath | Published: April 2011

We work in increasingly uncertain environments, where failures are more common than successes, yet we don't design organizations to manage, mitigate, and learn from failures. The author offers strategies for increasing this learning.

What's leadership got to do with it?

Authors: Jeanne Hardacre, Robert Cragg, Jonathan Shapiro, Peter Spurgeon and Hugh Flanagan | Published: 2011

This report offers insights into how leadership development can support Quality Improvement in the NHS. It confirms the links between leadership and improvement in the NHS, and provides new ways of understanding the nature of this improvement work.