Lesson 5 - Storytelling
'Tell me a story'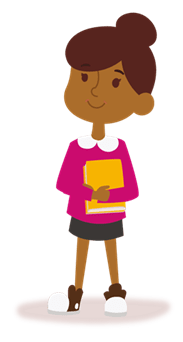 Quality Improvement Skills: motivation, enthusiasm, communication.
Children have an innate love of stories. Good storytelling can capture a child and pull him or her in to a world of imagination. A child not only listens to the story, they experience the story. They are encouraged to listen, think, create and understand. Stories can bring magic and a sense of wonder in children.
It's no different for adults in the workplace. According to Harvard University professor, Dr Howard Gardner, "storytelling is the single most powerful tool in a leader's toolkit". Stories captivate the audience, reaching both their head and their heart, getting them to feel as well as think. By connecting with people emotionally, storytelling opens a conduit through which key messages, facts and relevant information can flow. We remember these stories, they help change our minds and in doing so change our behaviours. Harvard Professor of Leadership John Kotter says that "people change what they do less because they are given analysis that shifts their thinking than because they are shown a truth that influences their feelings".
"Wake me up when the data is finished" is a common cry at presentations. In the world of quality improvement we often rely on statistics, facts and rhetoric to persuade and motivate the audience. Unfortunately the majority of people will simply tune out when the speaker drones on about data item after data item. However storytelling can enable articulation of the emotional aspects as well as the factual content, allowing expression of tacit knowledge. It's that inner connection where messages can resonate with a mental or emotional picture that has the potential to engage people and change behaviour. As articulated by Donald Berwick when he was leading the Institute for Healthcare Improvement "the value of storytelling in healthcare is immense and virtually untapped".
Listen, Learn, Act

Author: NHS Education for Scotland (NES) | Published: December 2013

A resource to enable taking stories from service users which could be used as part of improvement work

View the resource (PDF)

Applying Storytelling to Health Care Innovation

Author: ARHQ Health Care Innovations Exchange | Published: 2010

A short overview of organisational storytelling based on interview with storytelling expert, Steve Denning

Fact Sheet: The Storytelling Society

Published: 2015

An interactive fact sheet with various resources on storytelling

View the fact sheet (PDF)

Storytelling with Intent

Author: Tim Hedgeland | Published: August 2014

A toolkit designed to introduce the art of storytelling and the processes involved.

View the toolkit (PDF)

Mastering the discipline of business narrative

Author: Stephen Denning | Published: 2005

Story telling is a tool to achieve business purposes. To harness the full power of storytelling, the author says leaders should choose the right narrative to achieve organizational effectiveness.

Read the article (PDF)