Lesson 6 - Networking
'There's nothing better than a good friend, except a good friend with chocolate'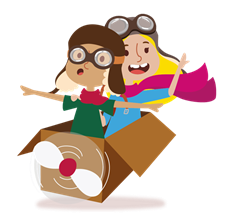 Quality Improvement Skills: relationship building and networking.
Children are great at making friends. They know the value of caring, sharing, trust and respect.
Like adults, children reject people who they perceive to be aggressive, disruptive, domineering or dishonest (Carlson et al 1984).
As quality improvement becomes more complex, QI leaders increasingly rely on their interpersonal and relational skills to bring about the changes involved. A study by the Health Foundation (Health Foundation 2011) indicates that interpersonal behaviours, focusing on the quality of relationships between people in the system, are one of the most important skills in how healthcare leaders bring about improvement. Developing, maintaining and using alliances are at the heart of quality improvement. QI leaders who are skilled in relationship building have access to people, information and resources to help solve problems and create opportunities. It will be important for the future that engagement and relationship behaviours are effectively embedded into leadership development activities alongside the more technical QI skills.
Successful Networking - the ultimate guide

Author: Christopher Barrat | Published: July 2015

An engaging and practical talk about how to become more effective at networking, including 'being interested before being interesting'.

Building Great Work Relationships

Author: MindTools Editorial Team

People who have a best friend at work are seven times more likely to be engaged in their jobs. This article looks at how to build strong, positive relationships at work, even with those you don't get on with.

A practical interpretation of Kantor's Dialogue Model

Author: David Kantor and Peter Stoyko | Published: 1996 and 2010

A tool to reduce the likelihood of misunderstandings in communication with colleagues when collaborating. It sets out 4 roles in that need to be used equally for an effective dialogue to take place.

Collaboration: The New Leadership

Author: David Chrislip | Published: December 1995

In his new model of collaborative leadership, Chrislip argues that bringing people together in constructive ways enables them to create authentic visions and strategies for addressing the shared concerns of the organisation and community.

Building Trust Inside Your Team

Author: MindTools Editorial Team

In Ready to Lead?, Wilson argues that collaborative leadership focuses on building trust, sharing power and developing people. Learn more about how to build that trust with your team.

Collaboration: How Leaders Avoid the Traps, Create Unity, and Reap Big Results

Based on Morten Hansen's book | Published: April 2009

Hansen suggests there are a number of deeply rooted individual traits that can act as barriers to collaborative leadership. This article summarises his key ideas and explores the different barriers, as well as suggesting ways of overcoming them.

Read the article (PDF)

What Does Authentic Leadership Really Mean?

Author: Bill George | Published: November 2016

Highly collaborative leaders focus on authentic leadership, placing the goals of the organisation ahead of their own self-interest and following through on their commitments. Find out more about how to be an authentic leader in this article.

What Do People Want from Their Leaders?

Author: Gareth Jones | Published: November 2012

In this short video, Jones highlights findings from research showing what followers want from their leaders. Authenticity and significance are just two of the attributes. It's based on the book by Rob Goffee and Gareth Jones (2006/2015) Why Should Anyone Be Led by You? Harvard Business School Press.

The Three-legged Stool – Governance, Operations and Behaviours

Author: David Archer | Published: March 2013

Effective collaboration requires complex business and leadership skills. When you're short of time, where do you focus your efforts? The three-legged stool provides a resilient model.

Collaborative Leadership

Published: February 2012

A useful overview of Collaborative Leadership listing the characteristics of collaborative leaders.

Developing Network Perspective Understanding the Basics of Social Networks and their Role in Leadership

Author: KL Cullen   Published: 2014

'Network perspective' is the ability of individuals to identify where and how they link with others across organisations, sectors and the societies we live in. This document identifies the importance of this in terms of leadership development.

Network mapping as a tool for uncovering hidden organisational talent and leadership

Author: Penny Scott              Published: 2016

Do you understand your networks and how to use them effectively? Networking is important in terms of strategic success and it's crucial that leaders find and tap into these networks.