Lesson 7 - Celebrating success
'Tomorrow we can eat broccoli, today is for ice cream'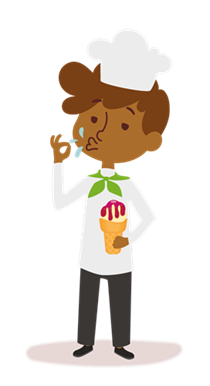 Quality Improvement Skills: have fun and celebrate success
Kids live in the moment, they don't do delayed gratification. When something goes well they enjoy it and want to share their success with everyone.
It's good to celebrate. Celebrating our successes builds morale, empowers staff and helps create a strong quality improvement culture. We're often too busy with planning the next stage of the project to stop and recognise the hard work and achievements that have been accomplished. Some people view this as unnecessary cheerleading and will try to play down its importance but we should not underestimate the motivational impact and value of celebrating success.
A celebration can give closure on the milestones you've been working toward and provide the encouragement to see the project through. If celebration, recognition and appreciation are going to be motivating then they shouldn't be saved till the end of the project. Celebrate early and celebrate often to reward those involved and maintain the momentum.
The Power of Small Wins

Author: Teresa Amabile and Steven J. Kramer | Published: May 2011

Performance at work is influenced by how positively people view their organisation, their work, and themselves. Leaders can help employees see how their work is contributing. Most important, they can avoid actions that negate its value.

Track Your Small Wins to Motivate Big Accomplishments

Author: Teresa Amabile | Published: September 2012

Keeping a workplace diary enabled creative and high performing people to recognise their achievements and celebrate small wins, leading to greater engagement.

Teach Your Team to Expect Success

Author: Christina Curtis | Published: June 2016

Accomplished leaders anticipate success, and that helps them obtain it. High expectations lead teams to work harder and commit to conquering the challenges ahead. This article encourages the leader to help teams envisage success.

Leading Change, Adding Value – Improving patient experience at Aintree Hospital NHS Foundation Trust

Author: Aintree University Hospital NHS Foundation Trust | Published: December 2016

Case study illustrating how, through collaboration and consultation, a hospital team was able to make positive changes to visiting hours and improve patient and visitor experience.

Kotter's 8-Step Change Model

Author: MindTools Editorial Team

John Kotter's model highlights the need to achieve quick wins because 'nothing motivates more than success'. He also explains how to build on achievements to sustain and embed the change.

Leading Change: Why Transformation Efforts Fail

Author: John Kotter | Published: January 2007

Kotter's original article on his widely acclaimed 8-step model of change management includes how to achieve quick wins and sustain the change.

Post-Implementation Reviews: Making Sure That What You Delivered Actually Works

Author: MindTools Editorial Team

How often do you take the time to reflect on what you've achieved, in order to improve what you do in the future? This guide explains how to conduct an end of project review, enabling you to measure success more effectively.