Leadership walk-rounds and safety conversations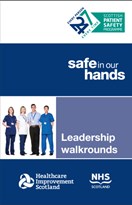 These are improvement tools that connect senior staff with their frontline staff via a structured conversation which can help build a culture of safety within an organisation. They can also help identify the barriers to caring for patients as safely as possible. The conversations should focus on:
key patient safety concerns
what we can do together to improve
teamwork and how do your local teams operate
communication, and
how leadership can help.
The conversations allow NHS boards to identify and act on areas requiring improvement. They can also be used to educate staff about patient safety concepts and improvements as well as incident reporting systems.