Patient safety climate tool (PSCT) and staff safety questionnaire
NHS boards across Scotland are using the Patient Safety Climate Tool (PSCT) with over 800 patients being given the opportunity to have a say about their care and treatment using this tool.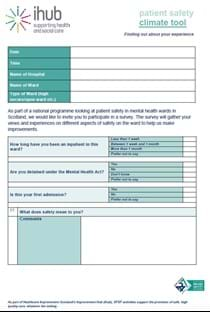 It is a Scottish innovation that is leading the way in person-centred care. The tool is designed to enquire about environmental, relational, medical and personal safety.
Generating knowledge, cultivating learning among those delivering and in receipt of care, and using knowledge to improve safety are core values.
The PSCT questions have been developed by mental health service users and carers, and mental health teams from NHS boards who have supported its implementation and delivery. The layout of the tool is designed in such a way that there is a flow to the questions. It assess different aspects of a ward or unit's safety climate, it also includes a mixture of qualitative and quantitative data. Service users and carers who were involved in the design of the tool recommend it should be facilitated externally.
It is important to note that the tool provides a snapshot at a given point in time and does not take into account where individuals are in relation to their recovery. It is key that every patient is given the opportunity to participate, unless it is clinically inadvisable.
Organisations working to develop or improve their safety culture need a reliable measure to monitor the success of their initiatives. Using PSCT can gain information from front-line staff about safety in their clinical area and management's commitment to safety. 
The survey can also provide information about how perceptions vary across different departments and disciplines. Participating teams can test and implement changes to improve the safety culture, such as Safety Briefings and Patient Safety Leadership WalkRoundsTM.