Case study - Clozapine Handy Guide
A major theme from the Patient Safety Climate Tool survey which took place in NHS Greater Glasgow and Clyde was information on medication. Patients and carers were saying they weren't getting enough information. NHS Greater Glasgow and Clyde looked at improving the current Patient Information Leaflets for medication with a series of themed cards. Following the success of these cards the idea was shared with the SPSP-MH Medicines Management Workstream Development Group to adapt for a National Clozapine Handy Guide.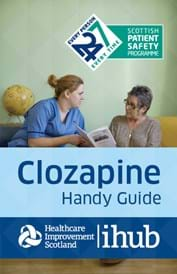 A short-life working group was set up with four NHS boards interested in testing a Clozapine Handy Guide, these were NHS Fife, NHS Forth Valley, NHS Lanarkshire and NHS Lothian. The key messages for patients, what are the safety issues which focused on the side-effects of Clozapine were developed into a handy Guide.
A Driver diagram and aim were produced. The aim was - Improving the dialogue between service user and service and increasing patient, care team and carer awareness of the high risk aspects of clozapine.
A small print run of the initial Handy Guide was distributed to the test sites for testing with community mental health teams, rehab, community pharmacy and also Learning and Disability colleagues.
An evaluation questionnaire was distributed with the handy guides for a facilitated discussion with services users which was collated by the boards and feedback to the short-life working group. A revised clozapine handy guide was printed and distributed nationally to cover the service user population and for staff education/promotion. A print ready copy has also been made available for local printing within NHS boards.
Results from service users included - increased patient awareness, increased knowledge on medication and the guide provided a handy reference. Service users found it was easy to read and conveyed a clear message on the potential side-effects. Some had been unaware of some of the effects listed and encouraged them to ask for further information.
It was agreed that the Clozapine Handy Guide will be reviewed in two years to ensure the information provided remained up-to-date. The next steps include looking at providing similar handy guides for other high risk medicines such as Lithium.