My Anticipatory Care Plan
My Anticipatory Care Plan (My ACP) was developed by Healthcare Improvement Scotland working with a range of partners. Published in 2018 it provides a comprehensive booklet which is designed for individuals to complete themselves, with support from family, friends and health or care professionals.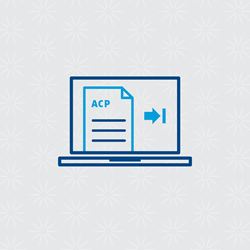 The My ACP booklet is kept at home by the individual, with a summary section at the end to let others know their most important wishes.
My ACP is available in a range of formats:
There is also a range of supplementary materials to support the use of My ACP.
Disclaimer
The content of My ACP was due for review in 2020. However, due to the COVID-19 pandemic this has been delayed. PDF copies of all the My ACP resources are available here for professionals to access. Do be aware that some web links, email addresses and contact information may now be out of date. Healthcare Improvement Scotland cannot supply printed copies of these resources. If you have any questions please contact his.pcpteam@nhs.scot.
Get in touch
If you have tools or resources that have supported you in preparing for and undertaking ACP, or you want to provide feedback, please get in touch by emailing us at